Top companies use EuroTechJobs
Find your top talent today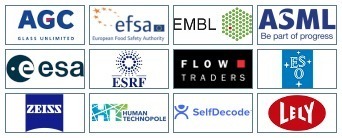 Popular
Standard Job
Ideal for attracting top talent
Push your job to the best candidates
Listed with logo
10 days on the front page
Online for up to 6 weeks
Included in the Newsletter regular posting
Once in 'Jobs you may have missed' section in the Newsletter
Included in the Custom Job Alert emails
Use of the Applicant Tracker ATS
Pre-Selection Questions
Recommended
High Visibility Job
Ideal for high profile, senior or urgent recruitment
Make your job stand out
Everything in Standard Job listing
Shown first in all job searches
Shown first on weekly job newsletters emails
Shown first on daily/weekly Job Alerts emails
Highlighted with coloured border and background
Included in a scrolling bar with your logo on front page
Included in Top Jobs box rotation on every page
Pre-Selection Questions
960 Euro (ex. VAT)
Save up to 25% by ordering volume packages
Ideal for agencies and large corporations
Email Sales at info@eurotechjobs.com to receive more information
CONTACT SALES:
For consultation questions and volume packs
For combination of products or services and any special needs
Sales Email (general inquiries): info@eurotechjobs.com
Tel: Belgium +32(0)2 790 3200 or UK +44 (0)20 3608 8800
Basic Job Ads: we list some jobs with reduced visibility for free.
To check, if you qualify and submit your listing, please click here
Why recruit with EuroTechJobs?
EuroTechJobs collects and displays jobs in the fields of Software Engineering, Project Management, Support Engineering, Database Administration, Hardware and Telecoms, Data Science, and many more.
EuroTechJobs brings together these jobs to provide our users with a centralized site for well-educated professionals looking for international tech jobs in Europe.
Through years of marketing and networking at industry relevant events, EuroTechJobs attracted a niche audience of highly qualified candidates.
Our audience is highly qualified:
79% are willing to relocate
33% have a Master or PhD in a tech field
Multilingual with English as the most common language
We have high reach and high frequency of contact:
8 000 (unique visitors) and 10 000 sessions (visits)
1300 weekly general Newsletter
7 500 weekly Job Alerts with custom preferences
What our Clients Say

The website is actually very user friendly. We got enough responses, which were mainly from qualified engineers. Thanks for your fruitful cooperation! I may also add special thanks to your sales and customer service team! We got qualified assistance and were contacted by competent and friendly personnel."
- Key Account Manager, Nievelt Ingenieur GmbH

Advertising on EuroJobsites allows us to target a key audience that is in demand by many of our clients. We've run extensive campaigns including Job Ads, Website Banners, and Newsletter Adverts to great effect. We're always very happy with the service and the site provides good return on investment too!
- Tim Suggitt, International Sales Director, Aktor Interactive

Thanks for the fast service. We are very pleased with the results of the ad... We can choose between a lot of candidates for this position!"
- Ine Debo, Recruitment Officer, Deloitte